Erin Pohl, the former Director of Sales at the world-renowned Sherwood Country Club, has represented a number of illustrious business leaders, celebrities, and athletes in her 40+ year real estate career. Erin brings to the team her extensive property development and custom estates construction experience. Erin's primary focus is new business development, and community outreach.
Bob Pearson a Broker-Associate, was the #1 individual sales agent for the Westlake Village office for ten straight years. With a background in business management and almost 40 years of real estate experience, Bob's primary areas of focus encompass marketing and advertising, seller negotiations, listing preparations, as well as weekly contacts with each client through in-person and telephone updates.
Kathleen Martin began her career in the late 1970's as a real estate agent in Southern California, transitioning to 28 years in new home sales. Beginning with California Community Builders, followed by Standard Pacific Homes, and, for the last 12 years as Senior Sales Manager with Toll Brothers, Kathleen became a highly visible part of the process of building highly personalized luxury homes for clients in Calabasas, Moorpark, Chatsworth and Porter Ranch. Named the top selling agent nationwide for Toll Brothers, Kathleen now brings her vast experience to the Erin and Bob team.
THE TEAM OF ERIN AND BOB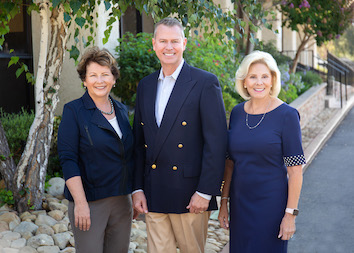 Ranked Coldwell Banker's #1 luxury real estate team for the Conejo Valley and consistently recognized nationally for their outstanding sales performance, the team of Erin Pohl and Bob Pearson are the premier Directors of Estates for Coldwell Banker Global Luxury – Westlake Village. Specializing in luxury real estate in Westlake Village, Lake Sherwood, Hidden Valley, North Ranch, Agoura Hills, Thousand Oaks, and Moorpark, the team of Erin and Bob bring you the finest service, knowledge, and experience in the art of buying and selling exceptional homes.
TEAM MEMBERS
By including marketing, video, photographic, and internet specialists on the team and utilizing the best of today's technology, the Erin and Bob team bring a uniquely full-service focus to sales strategies and marketing techniques. The results are a comprehensive and tailored proactive marketing plan for each client plus the superior service and singular attention to detail that each client deserves.
All primary team members are fully licensed real estate agents, which means that there is always a qualified professional available and ready to help you and those interested in your home.
Erin Pohl & Bob Pearson
Kathleen Martin
Coldwell Banker Realty
883 S. Westlake Blvd.
Westlake Village, CA 91361
Phone: 805-230-3308
E-mail: offers(at)erinandbob(dotted)com